A review of the "ORANGE MONSTER" - Seiko SKX781
The story
When I first saw this watch I only thought - "hmm, orange ... funny ... but too eccentric" - however the image got stuck in my mind and given my increasing passion for swimming and scuba diving it grew on me up to the point when something had to be done. Now it must be said that the "blame" for buying this watch mainly falls on the "Poor Man's Watch Forum" - where I first saw it in so many positive posts and where you can also see some great pictures of it or it's "brother" SKX779 the BLACK MONSTER in the Gallery, Gallery Archive and Top20 list !!! Other major "culprits" are John Davis (ei8htohms) for his amazing "deep inside review" of his SKX779, John B. Holbrook II for his Orange Monster review and Invicta comparative review and Dr. Peter McClean Millar for his Doxa comparative review!
Another part of the story is that the SKX781 is more difficult to find ouside of S-E Asia (and definitely more expensive) but since I really wanted a very solid and water-resistant automatic (it was also supposed to be inspiration material for a SF book that I dream writing one day) I decided to go for my very first Ebay experience and place all the expenses and losses under the label "first try / experimental research" :)
And I have indeed found a well-priced SKX781 on Ebay from a vendor with good feedback called watches59 - but the vendor was in Singapore - and since it was my first experience I was somehow reluctant and he was also a little hesitant since it looks like I also was his first client from Romania :) However after a short inquiry on the watch forums I religiously visit I learned that he is actually Adrian Low - a very well regarded watchseller which is also related to a site that I have previously visited (but the huge offer without many search options mostly discouraged me at first sight - even now I find much easier to search for an unusal cost-effective Seiko by placing a string like "SKX000 site:skywatches.com.sg" in Google :) ).
While my fears were gone it looks like Adrian Low might still had some fears regarding romanian buyers or simply his card processor was directly rejecting cards from here (apparently together with some other countries like Russia or India) - so finally I had to use a very expensive service from Western Union (that also can not provide the "buyer protection" that some cards have, but that was not needed in this case) - which together with the rather steep fees for DHL (which remains the best delivery service for valuable goods here in Romania but also the most expensive) have actually increased the price with almost 50% - but it was still a very competitive price!!!
And YES - less than a week later the ORANGE MONSTER was in my hands!!! It was packed in a standard Seiko watch box and very well wrapped but it was really impressive!
The details
The watch is a rather utilitarian but very well designed automatic with the widespread Seiko 7S26 movement in a very impressive 200 meter WR case with screw-down crown and one-way rotating bezel.
The case is large (at around 42 mm without crown) and rather heavy but very interesting in design (and rather innovative for a diver - not another Rolex look-alike), with smart bezel and crown guards. The crown itself is at the 4 o'clock position - which is more comfortable for large watches (and also quite typical for many Seiko automatic watches). The one-way rotating bezel is also a very nice looking part of the global design of the watch - the inward curving will protect the actual surface of the bezel and the bezel will protect the crystal - and is also a very smooth moving bezel and the 120 clicks are relatively well aligned.
The crystal is rather large and domed (a handy feature underwater where reflections on a flat crystal can sometimes make a watch unreadable) - but it is a rather strange material listed as Hardlex in some Seiko descriptions - it does not look like normal glass but seems to be quite scratch-resistant! While in the initial models the crystal was slightly protruding from under the bezel in recent models it was replaced with one that is just under it - so the protection is probably even more effective (and indeed it is - mine is still perfect :) ).
The dial is also large and - together with the hands - very easy to read in any light - with an original design that I also find VERY smart and pleasant - there is an upward curving minutes chapter that gives a certain impression of depth but what I like most is the long minutes hand that reaches (and can be perfectly aligned with) the minutes marks, the slighly longer yet still luminous painted (at the "correct" end) and very sharp seconds hand and the clearly different hour hand - it is a design as good and clear as it can get without a pure "regulateur"! Another part of the design that I love is the orange color - with the best contrast underwater but also with an invigorating look on casual wear - and the large luminous markings which can be nothing short of amazing in the dark!
Another very impressive feature is the bracelet - some models come with a rubber strap but I would never order a monster without the monster steel bracelet - it is probably the best and most solid steel bracelet that you can find on a watch from the "less than a small car" price range and most important of all it will give great balance to the (rather heavy) case! And since the lugs are drilled (another valuable feature rare in this price range) you can easily change at any moment the bracelet with anything else you want - and in the process you will also see the largest spring bars in a normal watch :) The bracelet also has a secure two-button folding clasp with safety lock and a usable wet-suit extension - and obviously is made of solid links held by solid pins :)
The entire watch is large plus quite heavy and at some point I was a little afraid it might be difficult to wear - I must report that it is OK for me and it looks rather good! Also it looks very good with alternative straps like the black+orange strap from two of the photos below (and I am still searching for an all-orange rubber strap) - but since I like to wear my watches rather loose and self-balancing on my wrist the best alternative is still the original steel bracelet!
The watch can not be hand wound (which is anyway not a thing that you should do very often to a diver watch with a screw-down crown) and also is non-hacking (meaning that when you pull the crown to the time-setting position the seconds hand will not stop) - that can make a very precise sincronization quite difficult until you learn the trick with some "back pressure" that will actually stop the watch!
I also like a lot the fact that the watch has both DATE and DAY - the two wheels are white with normal writing in black and the DAY wheel has two languages (that you can easily select) and a very nice touch - SATURDAY is SAT in BLUE and SUNDAY is SUN in RED!!! (also I have to report that for some reason the DAY wheel is slightly fluorescent - meaning that it will be very bright under ultraviolet light - which you can see in some of the photos below).
It is not easy to take very good pictures of this watch without professional light sources but here are some of my attempts (click on an image for a larger and much sharper view):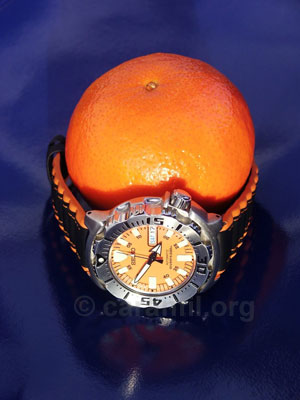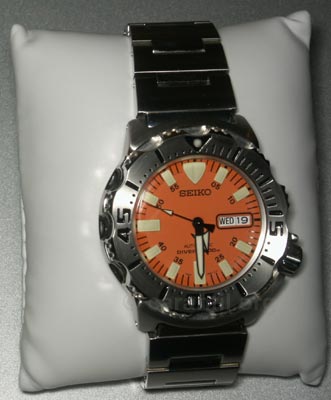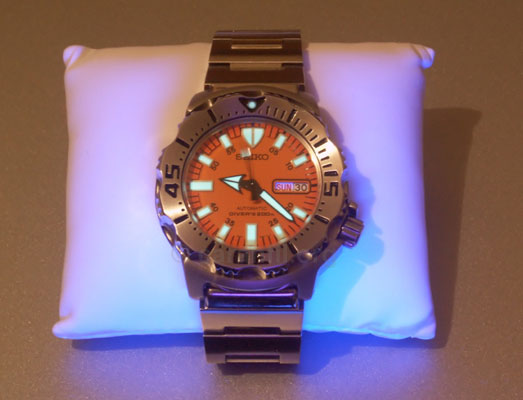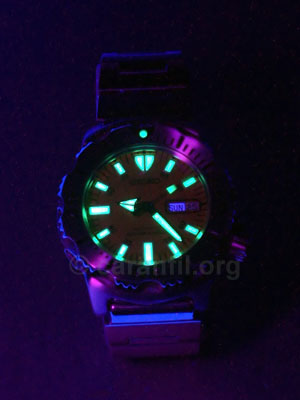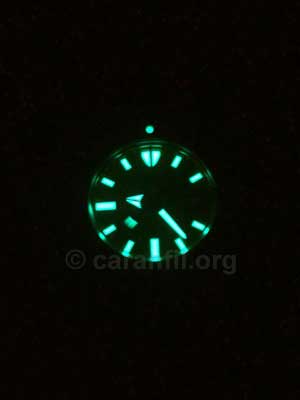 How it runs
All new mechanical watches need some time to "settle" and the ORANGE MONSTER is no exception - but mine was surprisingly accurate for a 7S26 at only around +8 to +12 seconds initially and after 3 months of continuous running it settled to an AMAZING average of under +5 seconds / WEEK (but that only with a little essential trick, meaning that I have searched for a position to leave it over night so that the overall error is mostly compensated - actually two positions, one for "hi-wound" and one for "low-wound" - read the next paragraph for the details). That is NOT typical for the reported accuracy of the non-regulated (out from factory) 7S26 movement - which is slow-beat (21600 bph) and not famous for its precision but rather for the solidity and longevity (even with minimal or no service at all).
The power reserve seems to be long (over 42 hours) but the isochronism correction does not seem to be as good as with my gracious 2824-2 so it is slightly more important - especially for a watch that tends to be a little fast - to keep it wound close to the maximum - not only the balance amplitude is maximized with the result of a slower overall rate but also the speed is more constant, while on low-power (for instance if you wear it every second day "in rotation") the watch becomes slightly faster and less predictable!
The watch also has some other minor drawbacks - for instance the crystal is not sapphire and even if the bracelet is a good quality stainless steel it is rather easy to scratch - definitely much easier than my titanium watch - but all those are really impossible to improve at this price point and in order to get a definitely better and more solid automatic watch you will need to spend over 10 times more money !!!
The look is rather amazing and invigorating and it will always bring a little fun even in an otherwise gray day - so is no surprise that the ORANGE MONSTER is now one of my favorites!!! But that does also mean that it gets a lot of wrist time and while not abused it is neither resting at all - for instance is doing at least 12 km of swimming-pool each week and it holds very well so far - we'll see how things evolve over the next years!
Pros
- solidity and longevity;
- invigorating ORANGE;
- very good visibility / legibility (day and night, also good under water);
- very good value for money!
Cons
- crystal is not sapphire;
- heavy;
- orange can be sometimes unusual;
- big and sporty.

Wish list
- sapphire crystal (eventually antireflective coating especially with the black monster);
- duratect titanium;
- hack & manual wind;
- other people have also requested smaller things like 22mm lugs, longer crown screw, better precision, the bezel guard ...
Alternatives
Very few at this price point.
Other related links
Seiko Divers Reference
Seiko & Citizen Forum
Equation of Time Ultimate Dive Watch Forum
Would I buy it again ?
CERTAINLY! - I am actually very tempted to get the BLACK MONSTER also !!!
Long-term update
After some time (probably around one year) the initial precision was lost and now (after almost two years) while it still works reliably it is almost 1 minute/week fast :(