A short review of a Citizen wristwatch (AP2470, also with some pictures of an older titanium model) - or how January was cold and rather boring around here so I had to get out of that blue mood with a new toy :)
The preliminary story
Towards the end of January I was in a large local shop buying a last-minute present for my sister's birthday when I have noticed some new titanium watch models from Citizen - I was rather short on time so I could only take a quick look but one of them especially caught my eye, and at a later time when I checked on the net it was looking like a variant of an expensive model (AP5220) - but with a somehow more elegant look and at a much better price!
I have to make a short digression and mention that I am a fan of titanium watches - for the last 6 years my watch was a thin titanium quartz model from Citizen (of which I only know that is probably using their caliber 4710) - my choice for that watch was mostly based on aesthetics
(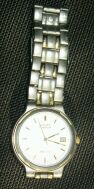 - click on an image for a larger view),
it is elegant and very light (which also makes it very comfortable to wear) and I was very happy with it - the only problem being that from time to time I had to take it for a battery change and each new battery was apparently lasting less than the one before and after each change the resistance to water was diminishing - up to the point that after 6 years (and at the 4th battery) I could no longer use the watch safely for swimming :( Another detail that you can see in the photos above is that the notion that "titanium is scrach-proof" is only a myth, sometimes it's not even scratch-resistant - but other times it might be possible to "hide" small scratches but it's not really "healing" them - it's more like hiding them with naturally-generated titanium oxide - however even knowing that I still like titanium :)
So I was now looking anyway after a new (titanium) watch but I wanted something without conventional batteries this time, and after seeing the new model at something that was looking as such a good price (the closest model that I could find after a quick search was almost double in price - and that was in an internet store, not in a more expensive real store) I decided to take a closer look - it was obviously not a cheap fake and it was pretty much what I wanted - so I decided to buy it and I never regretted that!
After an (extensive and longer than I expected) search the precise real model was AP2470-55J - which seems to be rather Europe-specific and is actually a less expensive model then what I initially thought - but I certainly like better its simpler look!
The details
It is a titanium (of course :) watch with a traditional-looking display (12-hours dial and traditional hands - hours, minutes and very nice central seconds) but quartz-based and with EcoDrive - for those unfamiliar with the name it's a "Citizen term" which generally means that the watch is internally using a rechargeable battery which is automatically refilled by using a natural source - light, movement or even a difference in temperature. This model can only use light - but that should certainly be enough (unless you are imprisoned for a very long time in almost absolute darkness :)
It also has a classic window for date (at 3), a small "current-mode" dial (at 6), a small but quite nice 24-hour dial (at 9), a third small multi-function dial (at 12) and functions for chronograph (including more exotic functions as "split seconds" or restarting without a zero-reset), alarm clock (the sound will not damage any ear but it can wake me up) and a simple "perpetual date/calendar" (meaning that once everything is set the date will be OK for a very long time - probably until year 2100 :)
The accuracy is VERY good (better than one second each month in my case - but I wear it during sleep) and while that is now to be expected from any decent quartz watch I am also very happy with its "look and feel" - the finish is very good (and you will probably have to pay 10 to 100 times more money for something visibly better).
It is interesting to note that most of the pictures that I could find on the net simply do little justice to this watch - in a certain light the titanium can have a warm color (like it would actually contain a small amount of gold in its composition) and the dial has a very interesting finish (which might be only an aesthetical feature or somehow functionally related to the solar cells) that can create amazing interferences and colors! ( here are some photos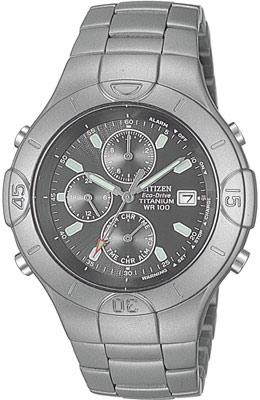 - click on an image for a larger view).
The hours, minutes and the tip of the seconds hands have a very nice luminescent paint and the same paint is used for the hour positions on the dial (all but 3 of them actually, and the look in the dark is quite interesting with 4 bigger marks, 4 medium and a smaller one asymmetrical at 9). The glow in the dark or even in low light can be really intense and impressing - and while it will start to fade soon after that it can still be seen for a few hours!
The watch is reasonable easy to read in any kind of luminosity, including in low light - when generally black dials can be slightly better - and the fact that the 6 silver hands are all parallel one to another and also parallel to a shiny "ring" on which the crystal is mounted can also help a lot in low light!
Another advantage of Citizen titanium watches that is mentioned by some people and which I like a lot is the fact that in high humidity those watches are much more pleasant to wear than maybe any other type of watch!
Other details - the watch is water resistant up to 100 meters but it has no standard crown (all operations are performed with 4 push-buttons from which one can also be pulled out to enter set-mode), the bracelet is quite amazing, it feels very solid - even if the links are folded, looks very nice and it has a safe clasp with a smart push-buttons mechanism, the power reserve is quoted by Citizen at 80 days and even if the warranty is rather standard (1 year international, 2 years local) based on my previous experience I would generally expect (and hope :) the watch to last for at least 10-20 years without any serious service (even if Citizen recommends an inspection every 2 years or so).
How it operates
Since it has no crown, operating the watch is not as traditional as many people might like - but to be honest (unless you change your time zone very often) using a watch is 99.9999% just looking at it - especially one that is as precise as this one (so you don't need to correct the time every week or so - as with most mechanical watches). If you really need to change something I consider the functions and operating modes (probably present in most of the AP family) very logical and simple to remember but some people might not agree with me - however - as long as you remember that the button from 4 is the "main button" and is pushed to change functions and pulled to enter set-mode for the current function - things will be just fine! There are other minor things that might have generated complains - some might be justified - for instance the fact that the minutes, hours and the 24 hours hands are always linked together and driven by the same bi-directinal stepper (and that is also the case for the special functions hand and the date display, but this time with a one-way stepper) will lead to slower operations in some conditions (like for instance when you want to use the alarm) - and if it would be possible to have the same size / low power consumption / reliability and separate bi-directional steppers for everything I would certainly be happier! Other complains might be more about a "wish list" - some people would like a seconds hand that will move in much smaller increments - but that will probably increase the power consumption 5 to 10 times - and my own wish is for a much bigger date (probably made by two dials, and since a wish list will cost nothing why not - display for "day of the week", month and year :) while other complains might simply be improper settings or operation - for instance in some conditions the watch might not be properly "zero-aligned" - and in that case it will look like the watch is operating very strange! (it happened to me - but the watch can be "zero-aligned" simple enough - "in software" and without opening it)
More details about Citizen watch operation can be found here or better (with some details about models and calibers) here (AP2470 seems to be Citizen caliber 0870 and this is the manual ).
Pros
- very good precision;
- titanium;
- solar;
- great looking;
- good functions;
- not heavy;
- very good value for money!
Cons
- no sapphire crystal;
- small date;
- no timezones.
Alternatives
You might also want to take a look at the more expensive BL5110 (WR200) or BL5070 (even more expensive but sapphire crystal, WR200)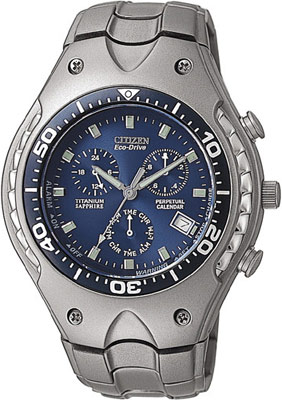 Would I buy it again ?
YES! (I might be also tempted by the BL5070 but that one is more than twice more expensive and very difficult to get around here).