A preliminary review of the Atlantic Seacrest automatic
The story
After getting the Citizen AP2470 I have learned a lot more about watches from a few very nice web places, and while I was no big fan of mechanical watches, at some point I become quite tempted by a very inexpensive skeleton watch found on the net. A few days later I was shopping together with a friend and I was trying to convince him that it was the right time to finally get a nice watch - so we entered our biggest local watch store and we started to look at different models. Knowing that I was interested in that cheap skeleton my friend asked the salesperson about skeleton watches - and she (incorectly) pointed us toward a number of watches with display-back. While it was clear that none of those was a real skeleton one of them really attracted my eye with its elegant simplicity - so I decided to take a closer look and I saw that the beauty was an Atlantic Seacrest automatic with display back and sapphire crystal. Even if I liked the watch A LOT I still was not ready to get another watch, especially a mechanical watch. However I decided to do a little research on the net about that specific model - and I have learned that it was using the well-regarded ETA 2824-2 swiss movement, it was swiss made and while the normal internet price for that model was at least 50% more than the one for my Citizen EcoDrive the local store was actually having a MUCH better price, so after 2-3 days the temptation was growing to the point where it largely exceeded the one for the skeleton - so I decided to buy this one instead!
The details
While the Citizen can be described as an amazing and reliable tool, the Atlantic is my "beauty for the soul" - I really love the very simple and elegant design, I like to look at the smooth advance of the central seconds and I am delighted by the thin minutes hand that is long enough to reach the fine markers for the minutes and perfectly align with them! It is also my first watch with sapphire crystal - and even if it has no anti-glare coating it still looks great!
There is no luminescent paint disturbing the simple "champagne" face which looks very nice together with the gold plating, the nice leather strap (honey-brown) and matching buckle with the Atlantic logo on it. The display back is just a small bonus since the inside is not really decorated, the 30 meters water resistance should be OK for a dress watch and as with most mechanical watches the warranty is 12 months.
The entire watch is quite light and easy to wear (I think mostly since the leather strap is very light compared to a metalic bracelet; however my Citizen AP2470 can be better when humidity is high) and the ETA 2824-2 is "hackable" and can also be manual wound (which is a small advantage for an automatic watch that is not worn every day).
It is really difficult to take very good pictures of this watch without a professional digital camera and professional light sources but here are some of my attempts (click on an image for a larger view):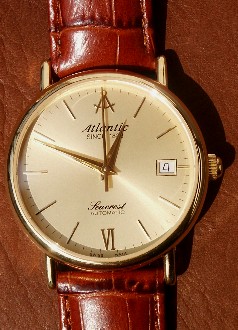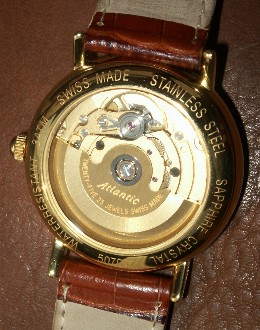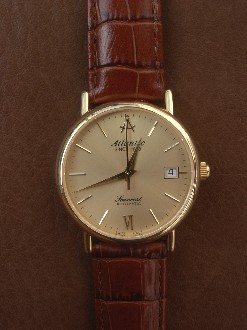 How it runs
The accuracy is typical for mechanical watches with decent prices - originally it was around 12 seconds fast each day and after some initial "wearing-in" (2-3 weeks) it is now around 10 seconds per day (but there are reports on the net that it might take up to 3-6 months for similar 2824 movements to "settle" - which usually means loosing about 5-10 seconds from the intial extra speed - if that will take place it will bring my inexpensive watch right into COSC limits :) but still quite far from my Eco-Drive)
As a result this is only a preliminary review that will be completed later - probably after 6-12 months.
Pros
- great looking;
- sapphire crystal;
- good automatic movement;
- very elegant design;
- the date is bigger than on my Citizen;
- decent price;
- did I mention great looking ? :)
Cons
- mechanical accuracy;
- not a perpetual calendar.
Alternatives
There are many other 2824 alternatives in sportier styles (Sandoz, Invicta) but the elegant models with sapphire crystal are not found easy and usually are more expensive. It might also be tempting to get the same Seacrest with black dial, normal stainless-steel colour and black strap.
Would I buy it again ?
DEFINITELY!