A short review of the Casio Sea Pathfinder Tough Solar SPS201
The story
After getting the Citizen AP2470 and the Atlantic Seacrest automatic I was feeling like something was missing from my very small collection - and after reading this article it become clear that I also wanted something with a large digital display, eventually a little on the tough side and with some funny and unusual feature. After a short research I found two very similar and deeply discounted Casio models, the STR201 and the SPS201 - and after a short deliberation the moon phase and tide info of the Sea Pathfinder won over the multiple lap times of the Solar Trainer.
The details
The full name of the watch is actually something like Sea Pathfinder Tough Solar SPS201, and the SOLAR part was very, very important in choosing it - all my recent watches (obviously including this one) have some form of self-charging since it seems that I can not trust a watch that can stop working in the most unexpected moment because its power was silently exhausted.
The display is large and very easy to read in any light and the list of features is quite impressive with time (12 or 24 hours format), date, day of the week, month, year (obviously with a perpetual calendar), a second time zone (in 30 minutes steps), an advanced countdown timer (with many complex features that I was told that might come handy in a yacht race), five alarms (one with snooze) and a full stopwatch (with restart, split seconds and two finish times).
The more exotic features are related to moon and tide - in order to have very accurate results you need to also set some extra data (GMT difference, longitude and lunitidal interval) but once those are set moon and tide information can be found even for another time or date.
While moon and tide is not unheard of in a watch, a really exotic feature is the brightness alarm, which actually is a form of "sunburn protection" - I don't know how effective that will be in a yacht race (it might actually be handy for somebody with light skin) but I will do some tests during my next seaside holiday!
However for me the most important and impressive feature is the backlight on that big display - and especially the "Auto Light" feature which I simply love during sleep time - it simply means that without needing a second hand to push the light button I can see the time in just a few moments (and then I can get back to sleep without actually getting fully awake) - and obviously it might also be helpful if you have the hands busy with something heavy. Now also the solar source of power is becoming important - the backlight can be activated quite often but that does no longer matter with a solar watch!
The entire watch is quite light and easy to wear - it is actually lighter than my Citizen Titanium and I was a little surprised that the plastic construction is not a problem with sweat and high humidity - it looks like things evolved quite A LOT since my previous plastic watch :) The case back is actually stainless steel and the construction looks quite tough - maybe not at the same level as the G-shock (which can take a fall from the third floor without problems) but it's close - and the only weak point might be the plastic crystal - and since it's obviously not possible to get sapphire (and a very large and thick one) in a new watch under 40 US$ it is really not a problem easy to solve. Another interesting point will be the resin bracelet - but I will see how things evolve in time with that.
Since the large crystal is curved it is really difficult to take very good pictures of this watch without professional light sources but here are some of my attempts (click on an image for a larger view):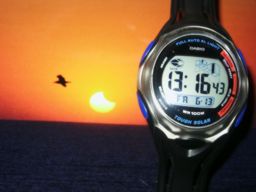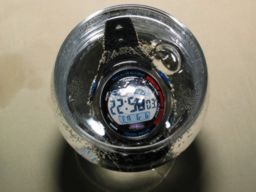 How it runs
The accuracy is very good - actually better than the (more expensive) Citizen AP2470 - both watches will be around 1 second/month if always worn (with a small advantage for the Citizen at +1 over the Casio at -1) but amazingly the Casio will keep the same precision even with frequent termic changes (like when you wear it on and off) while my EcoDrive will worsen to around +4 seconds each month!
Since the feature list is actually very good, the display is large and very easy to see and the auto backlight makes it amazing even in the dark this watch is currently my favorite for sports and night!!!
Pros
- very good precision;
- solar;
- very good functions;
- light;
- very, very good value for money (especially at the discount price)!
Cons
- plastic crystal;
- resin bracelet (actually it's not bad at all but I don't know anything about how long it will last);
- a little big and sporty for certain occasions.

Wish list
- louder alarm;
- in the "second time zone" mode if you accidentally touch buttons it will change the second time (while in all other modes to go to the "setting function" you need to keep the "Adjust" button down for more than 2-3 seconds);
- the backlight duration should be longer or ideally user-settable!
Alternatives
Maybe the Casio STR201 or even the more expensive top-of-the-range titanium Casio Pathfinders.
Would I buy it again ?
CERTAINLY!